Of all the biryanis I have tried and tasted, Thalassery Biriyani is my favourite! This recipe is my tribute to this traditional favourite that I can never get enough of!
I can never say no to a biriyani. It doesn't matter if it's called a biriyani, biryani, or biriani, I have pledged my allegiance to this fragrant rice and meat delicacy! I don't remember when I fell in love with this flavourful one-dish meal.
We have many varieties of biriyanis in India – Mughalai, Awadhi, Sindh, Hyderabadi, Chettinad, Ambur, Malabar, Bengali, Kashmiri, the list will go on. And I love them all! The basic premise is the same. You have rice, meat (red, white, or even seafood), and spices, and they are all brought together in one pot making it a deeply satisfying meal in itself.
When I tuck into a biriyani, it's not just food, but also a celebration of life, love, and all things good on this Earth! It's my comfort food. When I feel low, a good biriyani will lift my spirits up; and when I am happy, a good biriyani will make the rest of my day even more joyful!
All biriyanis are equal, but one maybe a little more equal!
Thalassery, a small commercial town in the North Kerala district of Kannur, is famous for the celebrated Malabar cuisine. Their world famous Thalassery biriyani is a culinary treat. Fragrant meat in a soulful gravy, and rice cooked with spices are married together by slow cooking again in layers, all absorbing each other's flavours. Topped up with fried onions, sultana raisins and cashew nuts, a true Thalassery biriyani is the thing to live for!
The soul of Thalassery biriyani lies in the masala. Onions are slow cooked with green chillies, ginger, and garlic. Tomatoes are added to the mix and cooked till they disappear into the mix. Now goes in coriander and mint leaves, and the marinated chicken pieces. This is slow cooked until the chicken is soft and juicy. Fresh garam masala is added before cooking for a few more minutes. That chicken masala is half work done. Now we move on to the rice. Thalassery biriyani is traditionally cooked with Kaima rice. If you can't source Kaima, basmati rice is a decent alternative. Whole spices and rice are fried in ghee and oil, and cooked in boiling water. Cooked rice and the chicken masala are placed in layers, topped with fried cashew nuts, sultanas, and onions, and "dum" cooked.
In traditional "Dum" cooking the lid is secured to the pan with a dough so that no steam can escape. Hot coal is placed on the lid, and slow cooked with a low flame from below the pan.
Story of this recipe
This recipe is inspired from a weekend cooking session with my cousin and her friend, who is from Thalassery. She had her mom's recipe, and we had all the ingredients. She led the cooking, while we helped with prepping the ingredients. The results were amazing. That was one of the best home cooked biriyanis that I have ever come across!
This recipe is a slightly altered version I have been working on. I am planning to revisit this soon. I hope this rendition has done justice to the original!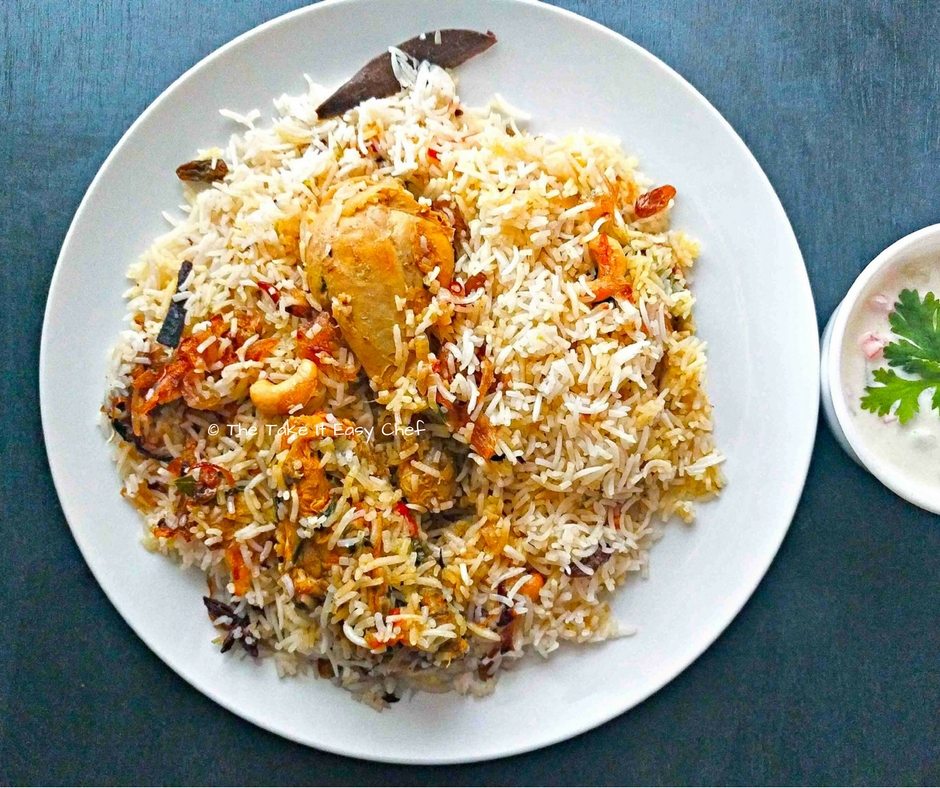 Thalassery Biriyani – Before you get cooking
Biriyani requires a lot of tender loving care. The process is elaborate, and spending some time in the kitchen is required, but the results are worth waiting for. I have used Basmati rice in this recipe. I have also cheated on the dum cooking – without compromising much on the flavours. Go ahead, plan and prep your ingredients, and start cooking. The aromas of spices getting fried will get you going!
P.S: If you want to think beyond biriyani, try this meat rice – "erachi choru" recipe here.
Print Recipe
Thalassery Chicken Biriyani
Thalassery Biriyani is a delicious mix of fragrant rice, spices, and chicken in a soulful gravy, married together by slow cooking to absorb the flavours.
Ingredients
For chicken masala
1.2

kg

chicken

full chicken cut to medium pieces

8

medium

onions

20

green chillies

moderately hot

15

cloves

garlic

2

inch

ginger

7

medium

tomatoes

ripe

1

cup

mint leaves

chopped

1 1/2

cup

cilantro

coriander leaves

1

teaspoon

cumin seeds

2

teaspoon

fennel seeds

3

cardamom

4

inch

cinnamon pieces

1/4

nutmeg

one small piece

4

tablespoon

yogurt

salt

to taste
For rice
800

gram

basmati rice

4 cups

3

bay leaves

2

cardamom

2

inch

cinnamon piece

1

star anise

1

mace

10

black peppercorn

1

lime

small

salt

to taste
For garnish
2

onions

thinly sliced

1

cup

sultana raisins

1

cup

Cashew nuts

salt

to taste
Instructions
Add one teaspoon turmeric powder, one tablespoon Kashmiri chili powder, two tablespoons yogurt, and salt to the chicken.

Mix well until the chicken pieces are coated well with this marinade. Keep it aside.

Wash and soak 4 cups of rice in water. The rice should be soaked for at least 1 hour.
Chicken masala
Let's prep the ingredients for biriyani masala. Thinly slice the onions.

Heat a cup of oil in a large pan. Once the oil is hot, lower the flame, and add the sliced onions to fry. Stir occasionally.

Give the green chilies, ginger, and garlic a quick blitz to make a coarse paste.

Slow-cook the onions till they turn brown, and add the ginger-garlic-chili paste.

Combine well, and cook for a few minutes. Now add the chopped tomatoes, and continue cooking.

Cook the tomatoes until they disappear into the mix.

Now add chopped coriander leaves and mint leaves. Mix well, and cook for 2-3 minutes.

Now add the marinated chicken pieces, two tablespoons yogurt, and salt to the pan. Mix gently to get chicken pieces evenly coated with the onion masala in the pan.

Close with a lid, and cook covered till the chicken is cooked to soft.

Powder cinnamon, cardamom, cumin seeds, fennel seeds, and nutmeg to a coarse powder. This is our garam masala powder.

Open the lid, add the garam masala to the cooked chicken, mix well, and cook for another 3 minutes.

Switch off the flame. That completes the first part of our biriyani - the chicken masala. Make sure that the chicken masala is moist enough so that biriyani won't go dry when we add rice later.
Cooking rice
In another pan heat 3 tablespoons oil and 3 tablespoons ghee on a medium flame. Fry 2 sliced onions, raisins, and cashew nuts until the onions turn brown.

Lower the flame. Scoop them out, and leave them on a paper towel to soak up the extra oil.

Add the whole spices to the same pan and give them a quick fry.

Drain off the water from the rice, and add it to the pan. Stir gently, and fry to get the rice to a crispy texture.

Add boiling water to the pan to cook the rice your are using. Squeeze one lime, add salt, and mix well.

Switch off the flame once the rice is cooked just enough.
Layering the biriyani
Now we'll bring together all these elements to complete our biriyani.

From the pan, transfer half of the cooked rice to a bowl.

Evenly spread the cooked chicken masala on top of the remaining rice in the pan.

Now spread the remaining rice on the chicken masala. Now we a layer of rice, a layer of chicken masala, and another layer of rice.

Garnish with the fried onions, sultanas, and cashew nuts that we had kept aside.

Close the lid. Cover tightly along the edges with aluminium foil. You can place something heavy on the lid to make it airtight.

On a low flame, cook again for 10 minutes.

Switch off the flame, open the lid, and serve the biriyani hot. accompanied with raita, papad, and green chilly chutney.