When you go to a restaurant for a celebratory dinner, there is one dish which always finds a place in your order. It is the rich, creamy, Paneer Butter Masala. There aren't many dishes that are popular with vegetarians and non-vegetarians alike.
Everything about this desi delicacy is celebratory. The mild sweetness and tanginess from tomatoes and onions; richness of butter, cashew nuts and cream; combined with the subtle aromas from dry spices; married together by the aromatic kasuri methi and soft, yet crumbly texture of paneer – it's pure, divine Indian food at its best!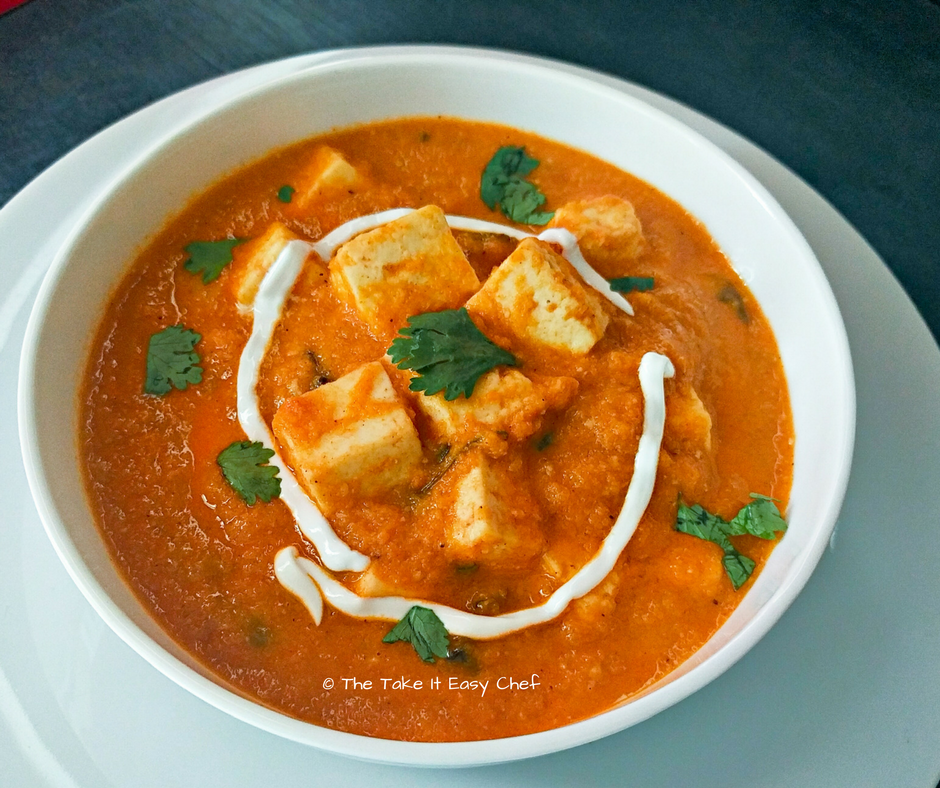 What is paneer?
If you are a fan of Indian food, I am sure you would have come across various paneer delicacies in the menu of your favourite Indian restaurant or takeaway. Paneer is a fresh cheese made with milk. It is made by curding boiled milk using lemon juice or mild citric acid or vinegar. You can read more about paneer here.
Does Paneer Butter Masala always taste better at a restaurant? Not anymore!
Those who have tried cooking this dish at home would have realised that recreating the restaurant magic of this delicacy is not very easy. It's one of those dishes that home kitchens have struggled to replicate. This take-it-easy recipe will help you produce a restaurant quality paneer butter masala at home, and you would have guessed it already – it is going to be super easy!
We'll start by cooking onions and tomatoes with some basic spices and cashews. Next step is to puree this to a thick masala paste. We'll then fry some fragrant spices in butter releasing a fantastic aroma. The pureed masala mix goes into this, followed by the paneer. Finish  with a seasoning of kasuri methi, coriander leaves (cilantro), and a dash of cream. That's about it. Isn't that simple?
I enjoy paneer butter masala with Indian breads like naan, roti, or kulcha. My wife says Jeera rice is the best accompaniment.
Now you can also make restaurant style Paneer Butter Masala at home. Make it like a pro!! This recipe is all you will need!
If you like paneer recipes, you might like the following recipes as well.
Print Recipe
Paneer Butter Masala - Restaurant Style
Everything about this desi delicacy is celebratory. This restaurant style paneer butter masala is pure, divine Indian food at its best!
Ingredients
200

grams

paneer

(cottage cheese)

3

onions

3

tomatoes

10

Cashew nuts

1

inch

ginger

4 - 5

pods

garlic

1/2

tablespoon

coriander powder

1

tablespoon

kashmiri chili powder

1/4

teaspoon

garam masala

1

bay leaf

3

cloves

3

cardamom

1

inch

cinnamon

1

teaspoon

kasuri methi leaves

(dry fenugreek)

2 - 3

sprigs

coriander leaves

To taste

salt

2

tablespoons

butter

1 1/2

tablespoons

fresh cream
Instructions
Finely chop the onions and tomatoes. Soak the cashew nuts in water.

Heat some oil in a pan, and add the chopped onions.

Cook till they are tender. As soon as the onions turn translucent, add the chopped tomatoes.

Add salt, and mix well.

Close the lid, and cook for 3 minutes on a low flame.

Open the lid, and add coriander powder, chili powder, garam masala, and cashew nuts.

Stir well, cook till the juices start to disappear, and switch off.

Let it cool. Transfer the onion and tomato mixture to a blender, add a cup of water, and grind to a fine paste.

This is the "masala" of our paneer butter masala. Add more water if the masala it's too thick.

Heat a pan, and melt the butter.

Fry the dry spices, bay leaf, cardamom, cloves and cinnamon, for 1 minute on a low flame.

Crush the ginger and garlic, and add to the pan.

Add the masala to the pan, add more chili powder (if required) for the colour, and mix well.

Cook with the lid closed for 3 minutes.

Open the lid, and cook for some more time if you want to reduce the gravy. Add the paneer cubes and the Kasuri methi leaves.

Add some cream and mix well.

Garnish with coriander leaves and a pinch of methi leaves. Serve hot with roti or naan.
Notes
Use only Kashmiri chili powder for this recipe - it adds a beautiful red colour to the curry  without making the masala too hot
Crush the ginger and garlic to make a coarse paste before drying in butter. I used a mortar and pestle. Crushing them on the chopping board with the flat surface of your knife will do fine
Kasuri methi adds a welcome bitter note to the sweet flavours of paneer butter masala. But be careful not to overdo it. Too much methi leaves will make your curry taste bitter!